I have been running tests using the Deployment Toolkit 1.0.4. This has involved running an installation using the deployment toolkit, manually uninstalling each application, and then running the deployment toolkit again to install.
Everything works correctly during the first run, but when I try to run it the second time I receive an error on the "Start configuring WebClient-11.0.0" task. It gives the error "IIS 10.0 Detailed Error - 404.0 - Not Found". Looking in IIS, the virtual directory under the Default Web Site is never created. All the files exist in the Program Files folder though.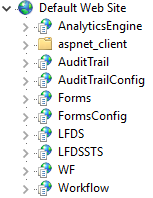 What would cause it to not add the virtual directory when running it a second time?
I have been able to replicate this on two different Windows 2019 servers.