I have questions regarding what I should be doing in the Audit Trail component, any pro-active type procedures so the information will be there if we come across an unexpected problem. Questions I can't find answers to after looking at the usual LF training resources:
Should I be setting up any additional audit reporting besides what Audit Trail is already tracking? Or does it track everything, and all I have to do is create a report to obtain the data when I want it (I have done some exploration and practicing with audit reports).
Should I be saving audit reports to another location every so often? (I've seen some posts that some people are doing this. Is this something every office should be doing? Is there a particular type of data people feel they need to save elsewhere?)
How long does the Audit Trail component keep the data for?
If a doc is to be presented in court and we need to prove it wasn't altered during a period of time, how would I go about proving it using Audit Trail?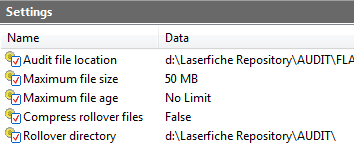 These are the settings for our repository.
Any tips on policy or procedure for pro-active auditing would be appreciated.
Connie P., Flagstaff County, AB