posted on September 23, 2014
Let me start this discussion with a picture. Hopefully the location is easily recognizable: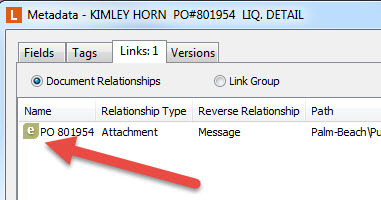 This is the metadata from an entry. Specifically, the links tab. This icon with the little "e" on it is a proprietary shortcut to our ERP (Tyler/Eden). I have used the Workflow script activity to create this file, and then link it to the corresponding entries in the LF Client. In some cases, I link it to a parent folder.
This allows me to open a corresponding record in our ERP database while browsing in the client. I use this ALL THE TIME and don't know how I used to live without it.
If anyone out there has some interest in this, let me know and I can share the details. If you have something similar, please tell us about it!