Today, May 9th 2022, Laserfiche announces the end-of-life for legacy modules that the Laserfiche product suite has since replaced with newer technology. These modules are not purchased products, but rather enhancements to support an implementation. Today marks the end of software maintenance for the following modules: Laserfiche Firewall Compatibility Component (FCC), Laserfiche Integration with SharePoint 2013, Laserfiche Web Accelerator and Laserfiche Discussions. The last day to access these modules from the Laserfiche Support Site is September 30th, 2022. On October 1st, 2022, Laserfiche will end software maintenance for these modules, marking the end-of-life.
For customers currently using the Laserfiche Integration with SharePoint 2013, please note that the integrations with Microsoft SharePoint 2016 and the upcoming SharePoint Online remain supported. We highly encourage you to reach out to your Solution Provider to plan to migrate to a more recent version of SharePoint and the Laserfiche Integration with SharePoint.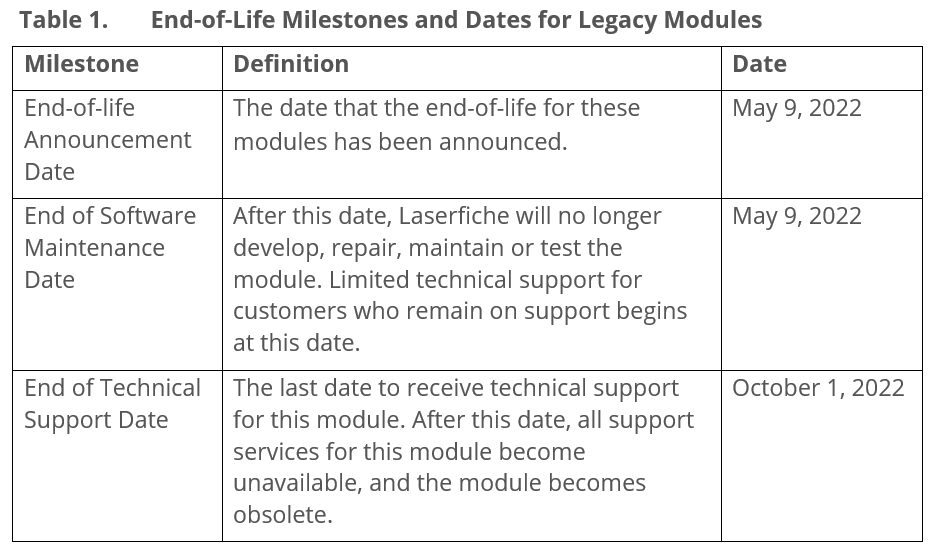 For More Information
For more information about the Laserfiche End-of-Life Policy, go to: https://answers.laserfiche.com/questions/157753/Laserfiche-Product-Solutions-EndofLife-Policy.
To subscribe to receive end-of-life notifications, subscribe to the Product Announcements group at: https://answers.laserfiche.com/groups/46/Product-Announcements.