Today, May 9th 2022, Laserfiche announces the sunset for Laserfiche Plus, and marks the end of new sales of the product. The product continues to be supported on Microsoft Windows version 10 and earlier. Existing customers will no longer be able to renew support after January 1 2027, when Microsoft plans to end support for Windows 10. Customers with active Support will continue to receive support as outlined in the table below.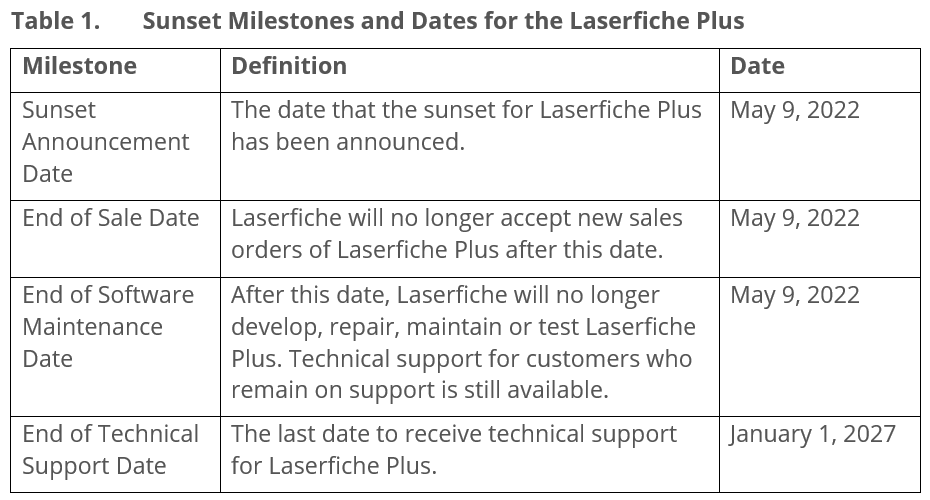 Product Migration Options
Customers with current support will be given credit towards a purchase of additional Laserfiche products such as User licenses. Credit does not apply to non-Laserfiche products or services. An exception of downgrades in total support are allowed in the case that you want to end support of the Laserfiche Plus product without purchasing additional product.
We encourage you to consult with your Solution Provider to see which is the best path for your content management needs going forward. We plan to release a Marketplace solution that outlines how to use entry access rights and Laserfiche WebLink to provide secure auditor access to the repository. Stay posted for more information on how to take advantage of newer technology for Laserfiche Plus publishing capabilities.
For More Information
To subscribe to receive sunset and end-of-life notifications, subscribe to the Product Announcements group at: https://answers.laserfiche.com/groups/46/Product-Announcements.