Hello Everyone,
I have a use case that I need help with. We have HR documents that get annotation added to them. My folks are adding text boxes, stamps, highlights, and sticky notes. They are using Laserfiche to its full extent. The issue comes up when they need to fax or email the documents. The highlights and sticky notes are internally needed but the stamps and text boxes are a true modification to the document. So what happens is that they need to send the document with the stamps and text boxes still on it, but remove the highlights and sticky notes.
The options only give these possible choices.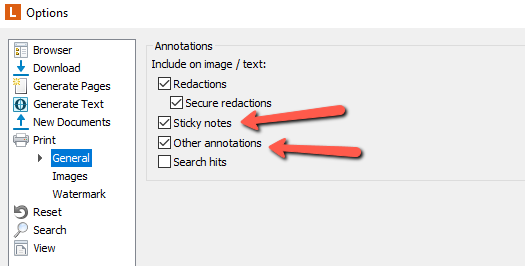 So they can remove the sticky notes, but then stamps, highlights, and sticky notes get grouped together in "Other Annotations".
I found some posts about using a script to delete all annotations with workflow but I can't get them to work. Ideally, I would like to build a Workflow that kicks off on a document and removes just the annotation types I want, and leaves the rest. If the options part of printing gave more choices, then I wouldn't need this workflow but I have no idea if Laserfiche will ever update this part of the software.
Thank you for the help.