Is there a way to determine which processes are using a particular data source in Forms (without going process-by-process through the Lookup Rules)?
I'm aware of the processes shown within the data source configuration on the administration page, but this only outlines which processes have permission to use that data source, not necessarily which processes are actually using it: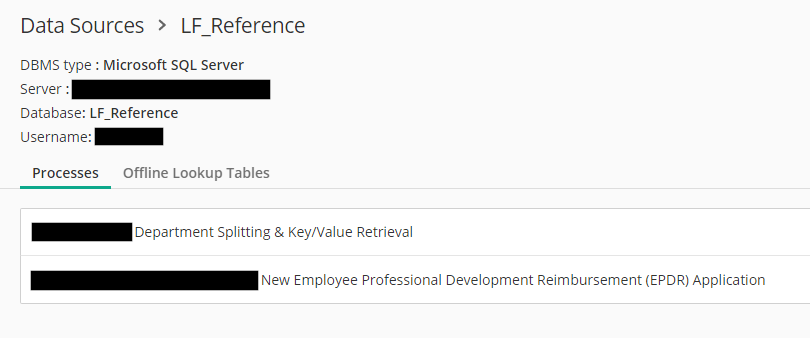 Background:
I have a client that will be making changes to a Forms data source, including changing the table names and data arrangement within the tables.
(I'm aware that when simply moving a data source, you can update the data source in Forms to point to the new location, which will update all of the Lookup Rules in the processes)
However, since they are changing the overall arrangement of data, our approach it so make a second copy of the database, then have them make the changes to the second copy. Once the new data source is ready, they will go through the processes and change the Lookup Rules to reference the data in the new database, as it is arranged there.
However, this client has 200+ processes, and at some point within the data source configuration, they used the "Select All" feature and added ALL of the processes to that data source's permission list; so every process is shown under that data source. We know that, even though all of the processes have permission to access that data source, not all of the processes are actually using that data source.
I want to find out if there is a way to determine which processes are actually referencing that data source within their Lookup Rules (similar to the "View Linked Workflows" option in Workflow).
I know there isn't a way to do this natively within the Forms application, but perhaps a query in the Forms database that can find this information?
I'm just trying to save from needing to go through 200+ processes, one-by-one, and checking the Lookup Rules.
Any assistance is appreciated!
P.S.- If there isn't a way to do this, perhaps we can request this added feature in future release versions of Forms.