Today, May 1st 2019, Laserfiche announces the End-of-Life for Laserfiche Oracle Support. The last day to order Laserfiche Oracle Support or related add-on modules is November 1st, 2019. Customers with active LSAP will continue to receive support as outlined in the table below.
In one year, on May 1st 2020, Laserfiche will end software maintenance of Laserfiche Oracle Support and Limited Technical Support will begin. If you choose to remain on LSAP, we will continue to support Oracle Support to the best of our abilities, but no new hotfixes or updates will be developed. Laserfiche version 10.4 will be the last version of the Laserfiche Server to support Oracle storage.
Database lookups throughout the Laserfiche product suite will continue to support Oracle databases. This announcement is only limited to the Oracle storage for the Laserfiche Server and Laserfiche Workflow storage. In two years, on May 1st, 2021, Laserfiche will end the Limited Technical Support. No support services will be offered for Laserfiche Oracle Support after this date, marking the End-of-life.
Table 1. End-of-Life Milestones and Dates for the Laserfiche Oracle Support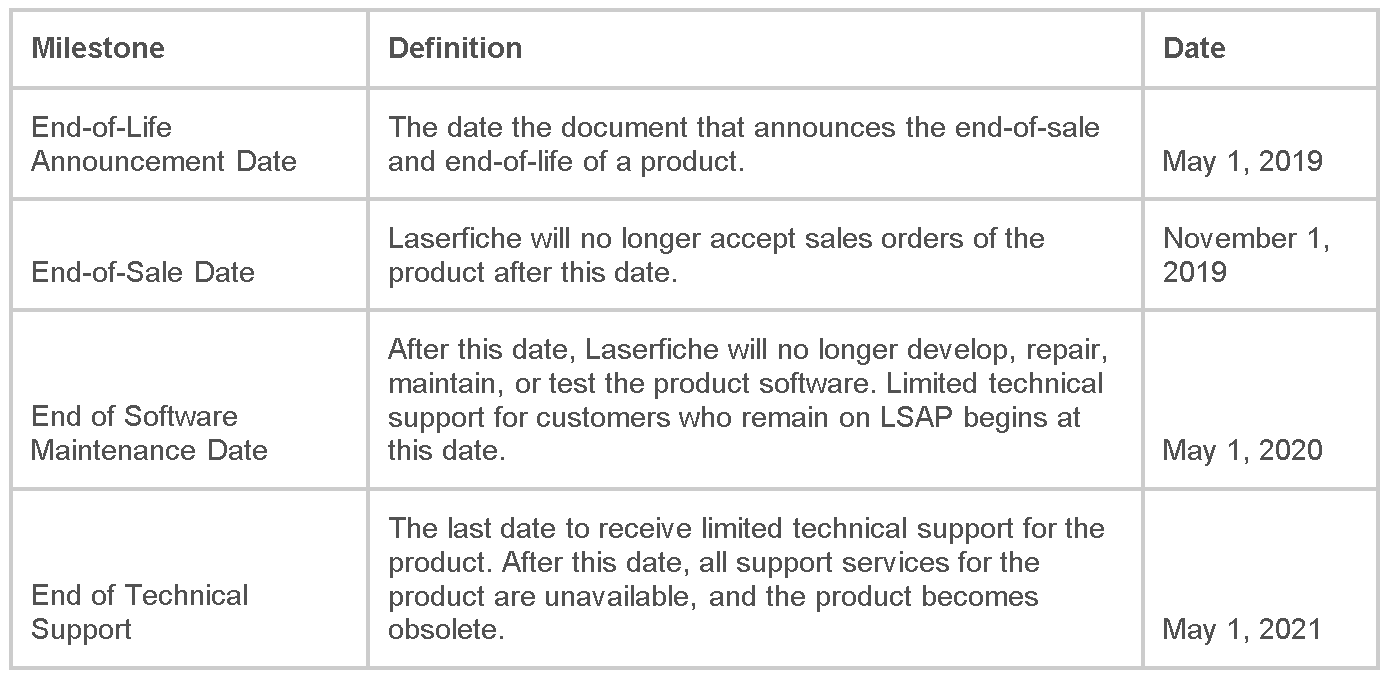 Product Migration Options
The product Laserfiche Support for Oracle currently provides Oracle Support for using Oracle databases for storage of the Laserfiche Content Server indexing and Laserfiche Workflow storage. It is lacking support for other products, such as LFDS, Laserfiche Forms, location data and other database sources in the product suite, which creates unnecessary deployment complexity. It is often found that the cost of Oracle Support for Laserfiche outweighs the cost of buying a SQL Server and training required to deploy SQL. Two database servers translates to more virtual machines, backups, patching and ultimately higher maintenance costs. SQL Server licenses cost significantly less than their Oracle equivalent. Yearly support costs are similarly lower.
Roughly 1% of Laserfiche customers are using the Laserfiche Oracle support product. Should you choose to transition to SQL, you gain the benefits of a broader community and more in-depth expertise from Laserfiche, solution providers and the wider Laserfiche community.
Migration Details
Please consult with your Solution Provider when considering a migration. They can assist with assuring you have the appropriate test licenses in place and backup procedures to smoothly handle the transition. As always, before doing any major migration you will want to back up the customer's data.
-----------------------------------------
Update: March 17, 2023
An official Laserfiche Repository Oracle to Microsoft SQL Server Migration Utility is available from the Laserfiche Support site. We recommend using it over the earlier methods described below.
-----------------------------------------
There are several ways to move the existing Laserfiche data from Oracle into SQL. If the your Laserfiche repository has relatively few documents, you can export the existing repository as briefcases, create a new repository on the new SQL-backend server, and then import the briefcases into this new repository. Alternatively, you can follow this guide from Microsoft to convert their existing repository database(s) from Oracle to SQL, and then use those new databases to register their repository on the new server. Again, we encourage you to discuss migration plans with your Laserfiche Solution provider and run a through backup before beginning a migration.
Customers with current LSAP will be given credit towards a purchase of additional Laserfiche product, such as Laserfiche Full Named Users. An exception of downgrades in total LSAP are allowed in the case that a you want to drop LSAP of the discontinued product without purchasing additional product.
For More Information
For more information about the Laserfiche End-of-Life Policy, go to: https://answers.laserfiche.com/questions/157753/Laserfiche-Product-Solutions-EndofLife-Policy.
To subscribe to receive end-of-life notifications, subscribe to the Product Announcements group at: https://answers.laserfiche.com/groups/46/Product-Announcements.