asked on February 13, 2018
I am getting the following errors when trying to launch LFScan.exe from the browser. I can duplicate this error with IE, Chrome, and Firefox.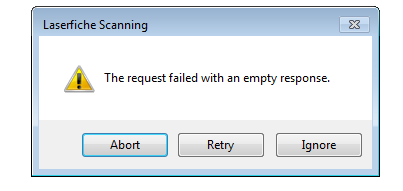 This is the 1st error when clicking on the Scan button.
This is the 2nd error when clicking on Ignore.
Information:
Laserfiche Web Client
10.3 (10.3.0.510)
Laserfiche Repository Access
10.3.0.232
Windows 7 PC logged on with admin rights
Any help is appreciated!