asked on November 14, 2017
I'm trying to set a constraint on a field in Laserfiche 10 Administration Console but when I try to apply it, I get a message "One or more entries in the recycle bin have field values that do not satisfy the constraint on the field. [9250]
I have purged or temporarily restored all the documents from the recycle bin that have that field, except for a dozen or so which I can't do anything with and I'm still unable to apply the constraint.
When I try to restore the documents I get this error:

When I try to purge it I get this error: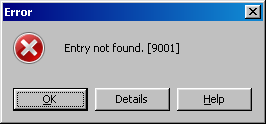 Any suggestions as to how I can resolve this issue?